DIGITAL CLASSROOMS
When technology is integrated into education, students are expected to be more interested in the subjects they are studying. Our Digital Classroom provides different opportunities to make learning more fun & enjoyable in terms of presenting same things in new ways. It ensures more active participation in the learning process which can be hard to achieve through a traditional lecture environment.
MOTHER TEACHER CONCEPT
To develop a strong, healthy and understanding relationship between a teacher and a student we have the Mother Teacher Concept where in every teacher is allotted 10 students to interact, counsel, share and make the child feel comfortable.
BUDDY CONCEPT
Buddy Concept is designed to support children in their first year of school through working with older students as role models. The Buddies concept Framework has specifically designed buddy activities focusing on curriculum, social skills, values and benefits for the younger and older buddies.
Our school uses a variety of programs and resources and Buddies Concept has been designed to complement these. Buddies Concept is designed to fit into your particular school environment and is flexible to incorporate all that you do with buddies in your school.
SPORTS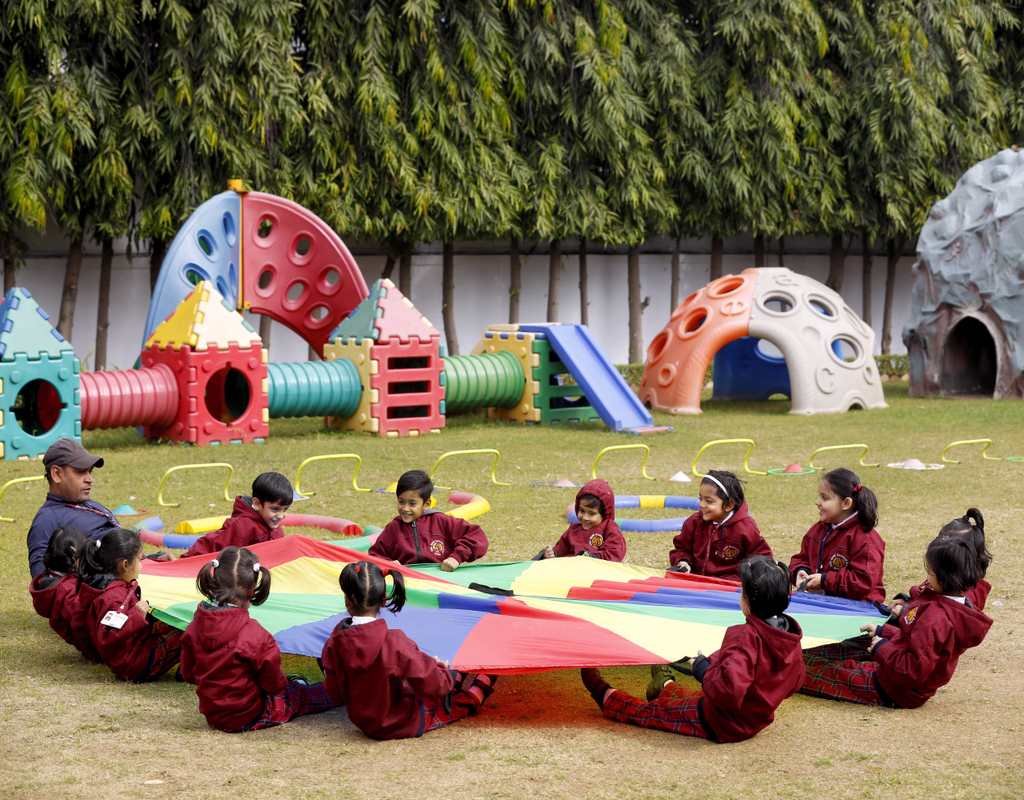 Sports do not just provide a medium for exercise but also important in the physical growth of children. The School has excellent indoor and outdoor sports facilities designed to endorse the physical and mental well-being of the students. School has well trained sports trainers for training the studs to achieve great heights.
Outdoor Games
Basket Ball
Volleyball
Badminton
Lawn Tennis
Athletics
Cricket
Sportathon
Football
Swimming Pool
Skating
Kho-Kho
Indoor Games
Chess
Carrom
Table Tennis
READING ROOMS
Reading room is central to each students' academic progress. The Reading room is equipped with 10 desktops and around 40,000 books, with already a rich collection. The Reading room also supports the archiving of the schools' various learning resources and records. It is a place to read, revise and concentrate.
E-LIBRARY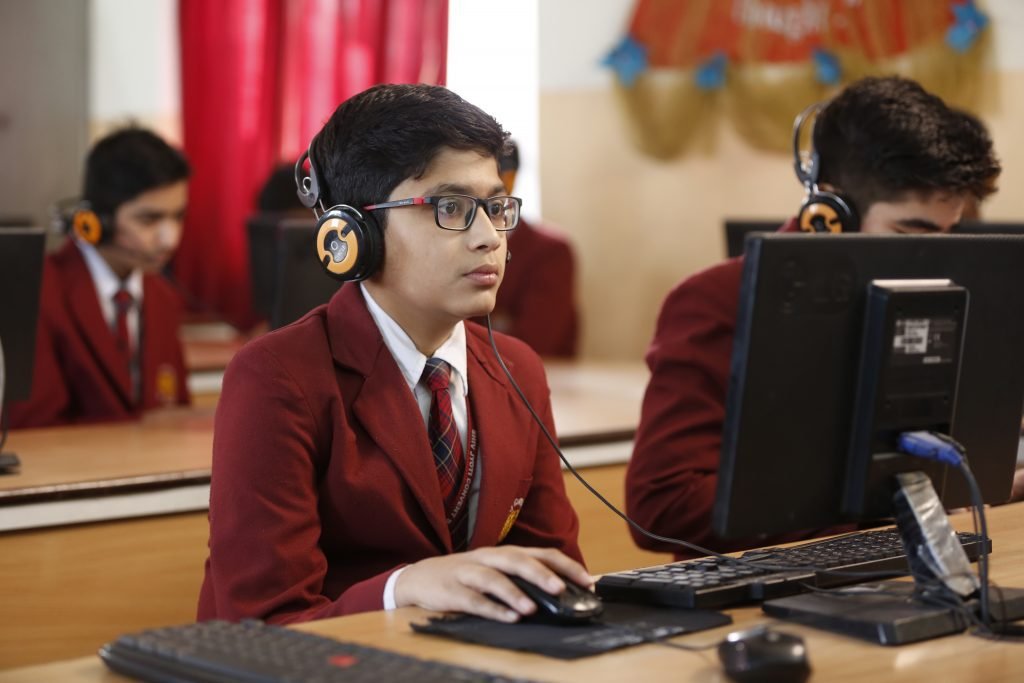 Digital libraries combine technology and information resources to allow remote access, breaking down the physical barriers between resources.
Although these resources will remain specialized to meet the needs of specific communities of learners, digital libraries will allow teachers and students to take advantage of wider ranges of materials and communicate with people outside the formal learning environment. This will allow more integration of the different types of learning.Students may access E-library through their Daily Diary account.
SWIMMING POOLS
Our school has two swimming pools. For seniors, we have well equipped and vast swimming pool. For juniors, we have splash pool.
We also have well trained coaches for training. Swimming keeps heart rate up and takes some of the impact stress off your body, builds endurance, muscle strength and cardiovascular fitness, helps maintain a healthy weight, healthy heart and lungs, and tones muscles and builds strength. We take our students for all the national and international competitions.
Homely Kitchen (Mess)
The kitchen is homely with all modern gadgets. We try to give the kitchen and dining hall a feeling of home which is a challenge that requires much effort and consideration to ensure that students don't feel home-sick. The students are served with hot, fresh, healthy & nutritious food. All workers in the kitchen wear neat and clean uniforms and caps. The entry of the students and staff is not permitted so as to keep hygienic conditions in the kitchen. Special care is taken in cleaning and drying utensils. After cooking the food, the floor of the kitchen is cleaned with a disinfectant. Faculty members supervise the eating habits and table etiquette of students. We pride ourselves on the quality of food we serve. Nutritional value of food is the basis for catering to the children's taste. Fruits and milk from a rich supplement to the daily diet The students are given instructions to eat everything in proper proportion
YOGA AND ZUMBA CLASSES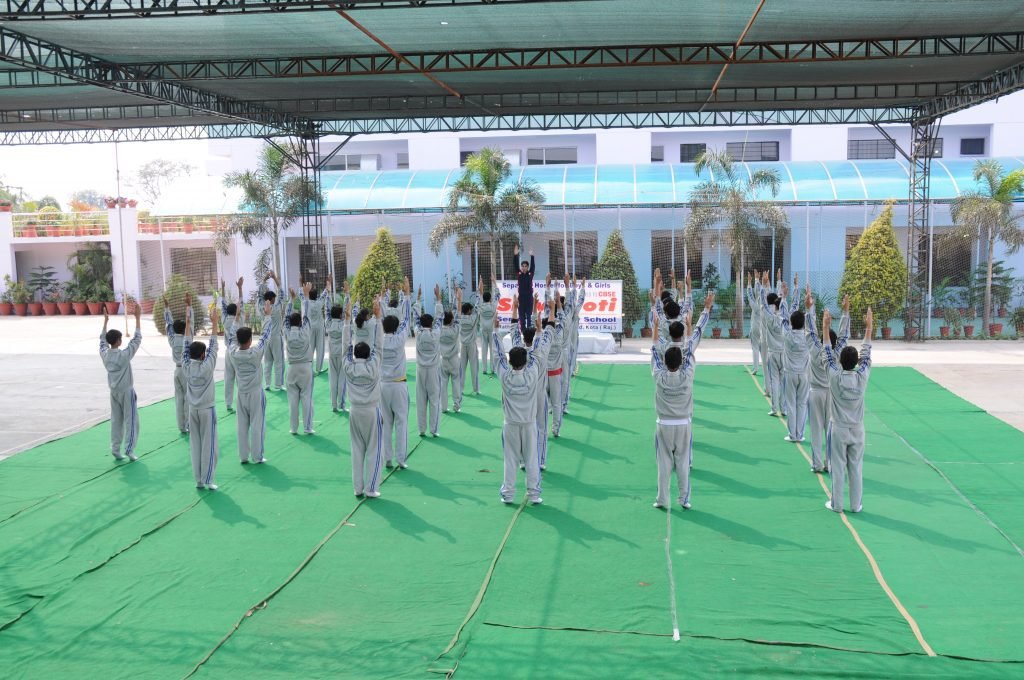 To develop the early love for exercise we have included Yoga and Zumba classes in our curriculum. This helps in increasing concentration, flexibility, physical health and love for nature.
LUSH GREEN GARDENS
To connect the students with the nature, environment we have Lush Green Gardens in our school where they can play, enjoy, have fun and learn about the nature, different plants, get fresh air and positivity.
We have many play stations in the garden for our children. The swings, slides, and see-saw also foster physical development, enable independence and enhance their decision making, collaborative play & gross motors skills.
COMPUTER LAB
Computer education is now a necessity. It is an integral part of life and so is computer education. High-tech computer labs are the Hubs on our campus to make our students technologically savvy. This makes an emphatic statement about the school's commitment to gearing up students to navigate the information superhighway that is changing the world.
ROBOTICS LAB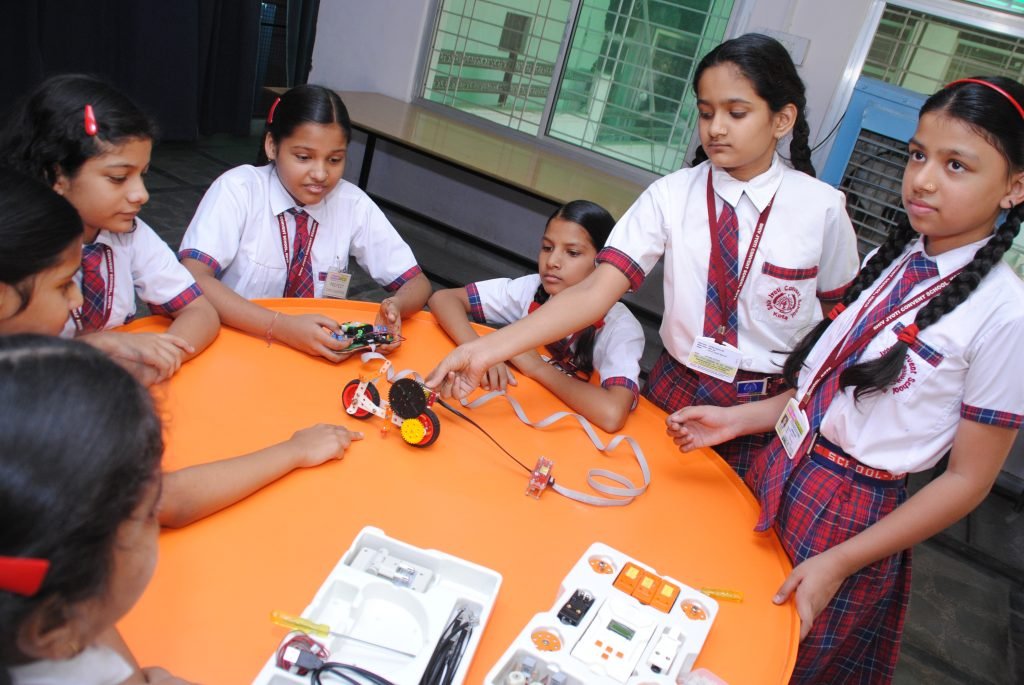 t's a matter of great pride that our Shiv Jyoti Educational Group has introduced Robotics Lab to provide world class educational skills to the student.
In Robotics Lab, students are getting benefits to enhance their engineering & research development skills. These students will surely lead in "Skill India" and "Startup"programme in upcoming future. Students do innovative & interesting work with the help of Robotics lab so that they can improve their scientific temperament.
It is noticeable that Shiv Jyoti Educational Group is the only institute in the region that has introduced such advanced technology lab with the help and guidance of the experts, students get support to cultivate skill and confidence. Our Robotics Lab is unique in many ways. It provides not only a platform to students to enhance their knowledge, but it also provides a wonderful environment to realize innovative ideas into reality.
FOREIGN LANGUAGE LAB
Language primarily develops from listening, speaking, reading and writing. When these skills are nurtured to the full then they have a positive & marked effect on students for whom English is a second language
School has separate language lab with latest audio-visual installations, an aid in modern language teaching. It ensures correct pronunciations, accent neutralization and has facilities for study also.
PHYSICS, CHEMISTRY & BIOLOGY LAB
We have state-of-the-art Science Labs, one each for Physics, Chemistry, and Biology. These are equipped with audio-visual (AV) facilities to enable students to stay in touch with the latest inventions in science and technology.
Our labs have a separate reference section where students have access to computers. A major Science Exhibition is held by the students every year to showcase the discoveries and inventions made by them.
CAREER GUIDANCE CELL
The Career Advisory cell helps students to become familiar with career opportunities by providing them with vital information on global competitiveness in the fast paced world, in order to make informed choices with regard to their career options. Key Guidance:
Working towards developing clarity of purpose in the students' minds about their academic goals and professional choices.
Facilitating and motivating the students to shortlist esteemed colleges, universities and institutions for higher studies in India and abroad. Counseling and guiding the students in choosing their subjects after Grade X level.
Organizing Student Development Workshops, Book Fair and sessions by eminent persons so as to expand the horizon of the student's mind.
Conducting Personality Development or grooming the skills sessions for their overall personality enhancement.
DANCE & MUSIC
Children learn new things, like sounds, words and patterns through music. And with dance they can explore and control their body movements.
These activities are great for development and stimulate connections in the growing brains. So we conduct Dance and Music classes regularly to foster their physical skills and contribute to their creativity and imagination.
ART & CRAFT ACTIVITIES
We believe in developing little minds and bodies from their tender age. Art and craft activities can enhance mental health and well being as well as fostering a whole range of development skills in pre- scholars.
Working with material our school offers a variety of Art and craft activities to our kids to teach them about colours, shapes and textures. By this we encourage children to play and experiment in a fun and relaxed environment.
AUDITORIUM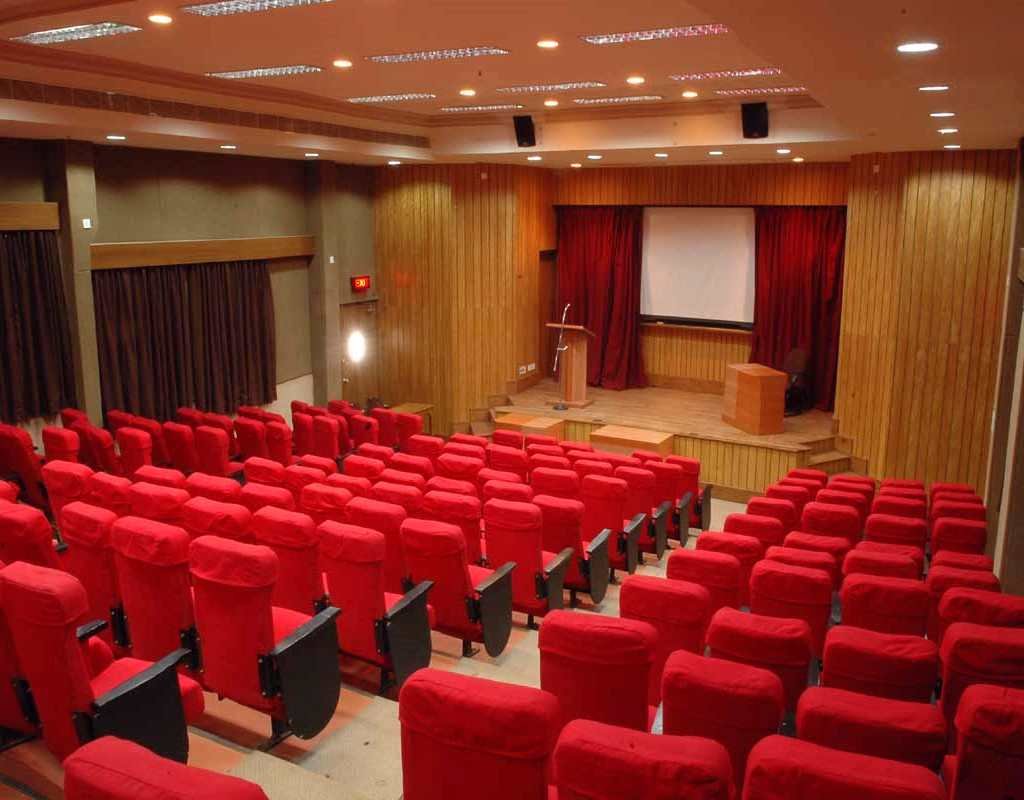 Auditorium is a central and important space . It is used for all types of formal assembly, lectures, award ceremonies, Dramatic Plays, Stage Performances, and Dance Competitions and so on.
These varied events place a range of demands on the room. For all events, it is essential that everyone in the room hear, clearly and enjoyably, everything that is presented.
ASSEMBLY
Just like a balanced breakfast, School Assembly is an essential start to a young child's day and a significant influence in helping him/her grow into responsible adult with a well developed sense of Community.
Our School Assembly takes them in the comfort zone. With the circle of Teachers and friends surrounding them, the children develop for functioning as a part of large groups are reinforced.
TEACHER TRAINING PROGRAM
The best way to move towards achieving educational excellence is to ensure that our organization is committed to provide top quality teacher training.
These trainings help to prepare teachers with knowledge, skills, and attitude required while dealing with the students effectively in a classroom, school and wider communities.
LIBRARY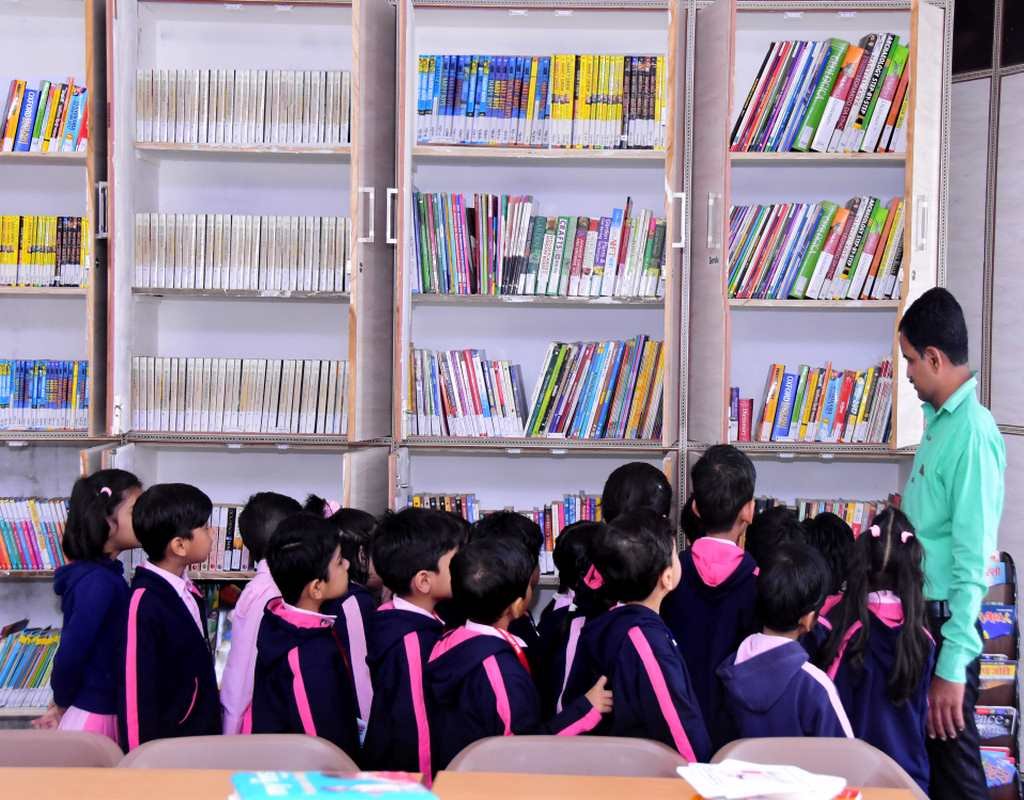 The school aims at improving the reading and writing skills of students. An effective way of reaching that goal is through inculcating in them the habit of reading.
The school library is integral to the teaching and learning process. It facilitates the work of the classroom teacher and ensures each student has equitable access to the resources.
TRANSPORTATION
The security of our students starts things out to us, and we, at the Shiv Jyoti, leave no stones unturned for guaranteeing the equivalent. We ensure the complete safety of the children. Alongside keeping up total tidiness in the transports, we additionally guarantee that all the transports maintain a strategic distance from any on-street issues.
DISPENSARY
Health services are vitally necessary in order to provide first aid and triage for illness and injuries, to provide direct services for students with special needs, to provide health counseling and to conduct regular health check-ups. Thus, we ensure to create a positive school climate that fosters learning. Our doctor room provides the safe and comfortable ambience to the children.
AIR COOLED CLASSROOMS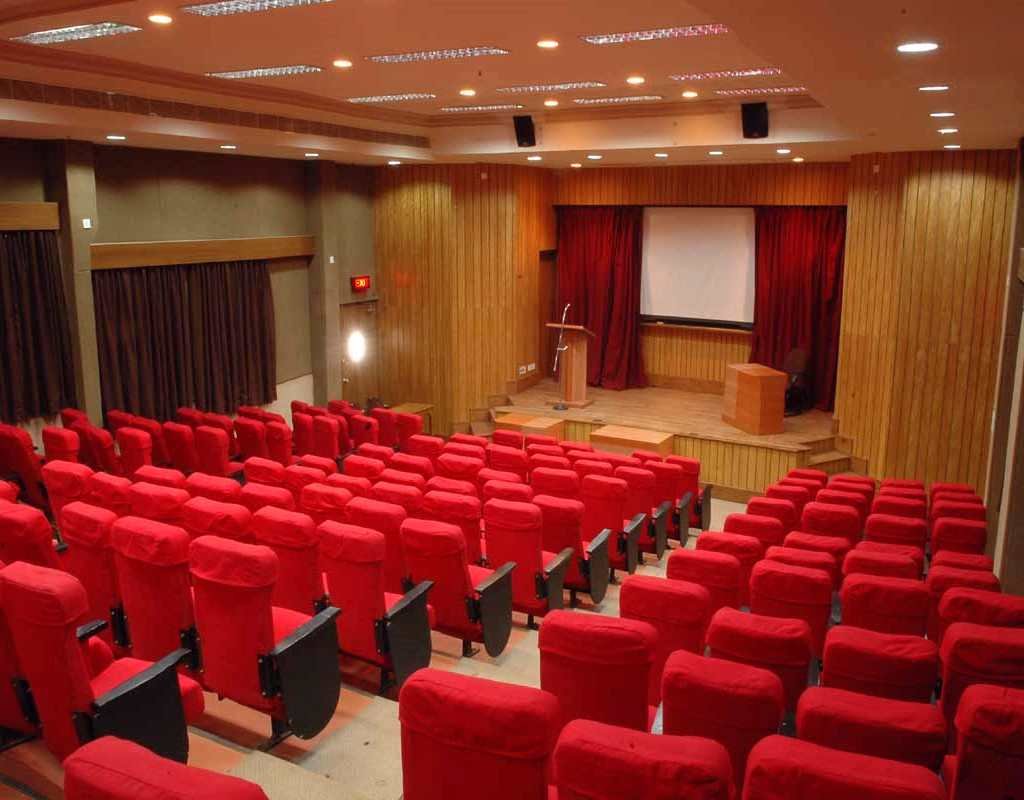 Using Air-cooler is the perfect way to keep temperature comfortable. It filters the air and clear toxins from the environment. This gives students and staff better health. It helps the student to focus on their studies well.Air-cooler pulls fresh air from the outside and cools it down hot which circulates the interval air of the room over and over again. This helps in learning without interruption thus increases academic performance.
PLAY ZONE
Learning by doing is the best way to learn. We have specialized play area for our students where we have safe and hygienic toys brought from abroad. This area includes teaching aids, toy cars & bikes, puzzles, blocks, and many more toys to have fun with learning.
STORY TELLING AREA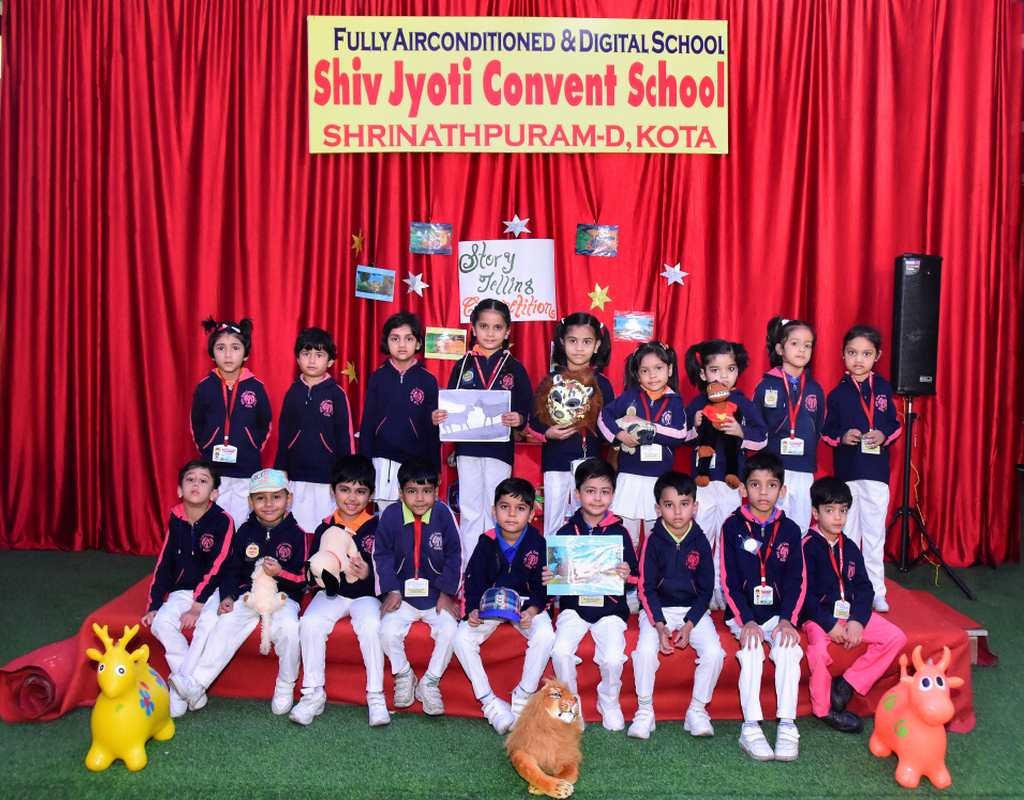 We have specialized story telling room where students are taught different stories with the help of puppets, charts and different props for better understanding and long lasting impression.
SAFE & SECURE ENVIRONMENT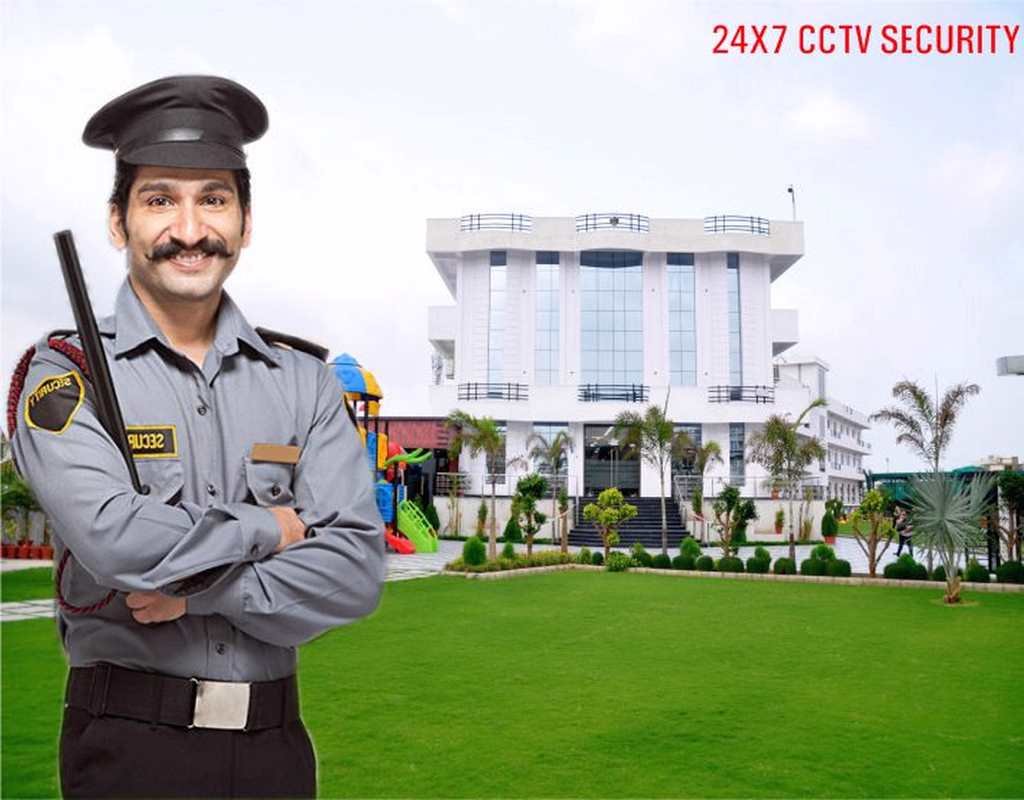 When students feel safe & secure, they are more comfortable in the school, better able to learn and succeed, and have better opportunities to grow academically, emotionally, and socially.
Therefore, we ensure a safe and secure environment for our toddlers with high boundary walls, guarded gates, firefighting system and CCTV in complete campus. We provide pick and drop facility to our tiny toddlers from their respective classes.
R O SYSTEM
Pure drinking water is a need of students to keep them in perfect health. To provide pure drinking water to the students, the school has installed 'Reverse Osmosis' System in the campus.
Open Gym
With the view of keeping our hostilities hale and hearty, we have a unique concept of "Open Gymnasium" within the school campus. The Gym is provided with the latest machines catering to exercising needs of every student. They get this opportunity twice a day!
DAILY DIARY
As Shiv Jyoti School is Technologically advanced institution, we offer special feature of "Daily Diary" on our web portal. On this, We upload all the Classwork and practice work so that students and parents can access the work anytime and anywhere in future.
LEARNING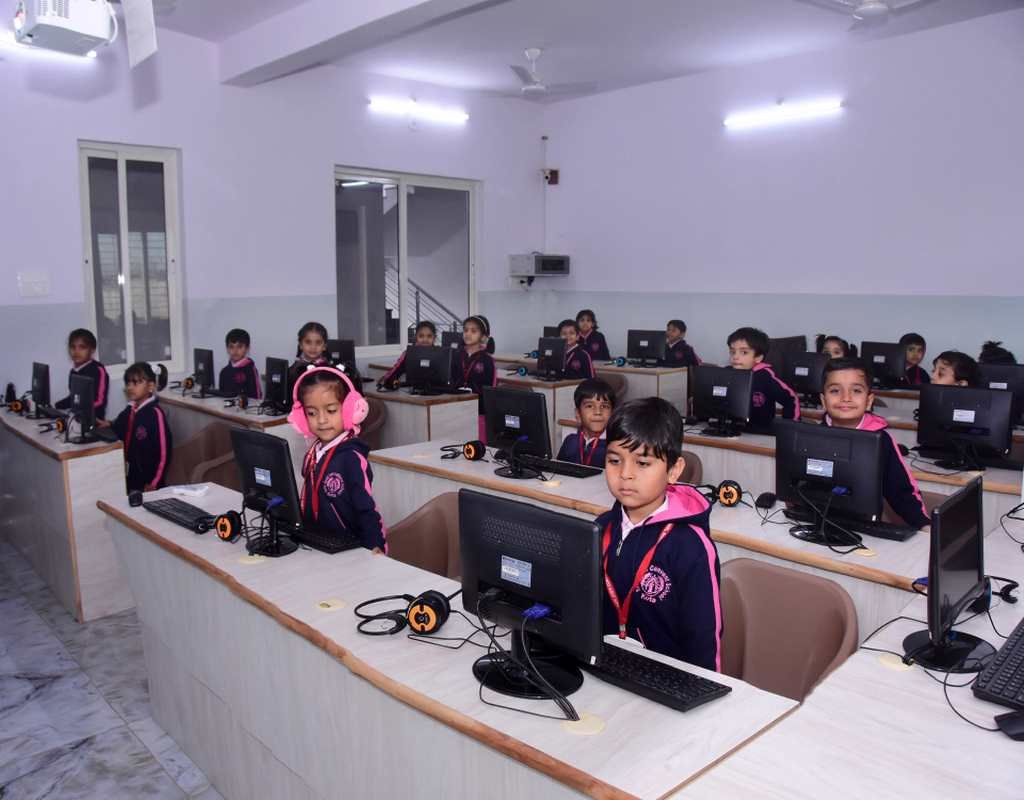 This is the key feature of Shiv Jyoti Residential Cum Day Boarding School. Shiv Jyoti works on the concept of NO BAG, NO TIFFIN, NO HOMEWORK! so all the subjects' learningsare conducted during the regular schedule. Students learn their work during school time only.
Sportathon
Children love to play, and play oen mirrors what is important in their lives. Sport is a fun, posive experience for children who allow them to make new friends learn new skills and develop new interests. The first step in providing a posive sport experience for children, the main goal of sports should be to foster the overall development of all the children involved. This sports include ideas for warmup, stretches and cool down acvies. principles for posive children's sport programs. ways for making play with children more posive safety measures, nutrion values, life skills, ideas for equipment and many other suggesons. It designed with a purpose for making acvity a regular part of their day will show students the importances that teacher place on being healthy and acve – a lesson that will stay with kids for then rest of their lives.